So, with Halloween rapidly approaching, it's time to get your spook on.
But to be honest, is there anything spookier than Halloween camping? In the dark night, deep in the forest or wilderness, the warm campfire casts ominous shadows over the forest floor. Eek!
Halloween camping is the perfect opportunity to really get into the spirit of things by making even the smallest things spooky. Just camping out at night with the idea of ghosts, vampires and zombies in your mind is enough to get the heart racing and mind wandering.
To make your Halloween camping more comfortable and memorable, I want to recommend some outstanding camping tents for you.
Sure, tents are the most indispensable gear for auto camping. Here, we recommend 4 different kinds of tents for you. They would be amazing for an overnight Halloween auto camping trip. At the end, I also prepare a special shower tent for a more comfortable and dignified Halloween camping.
1. KINGCAMP INSTANT HARD SHELL ROOFTOP TENT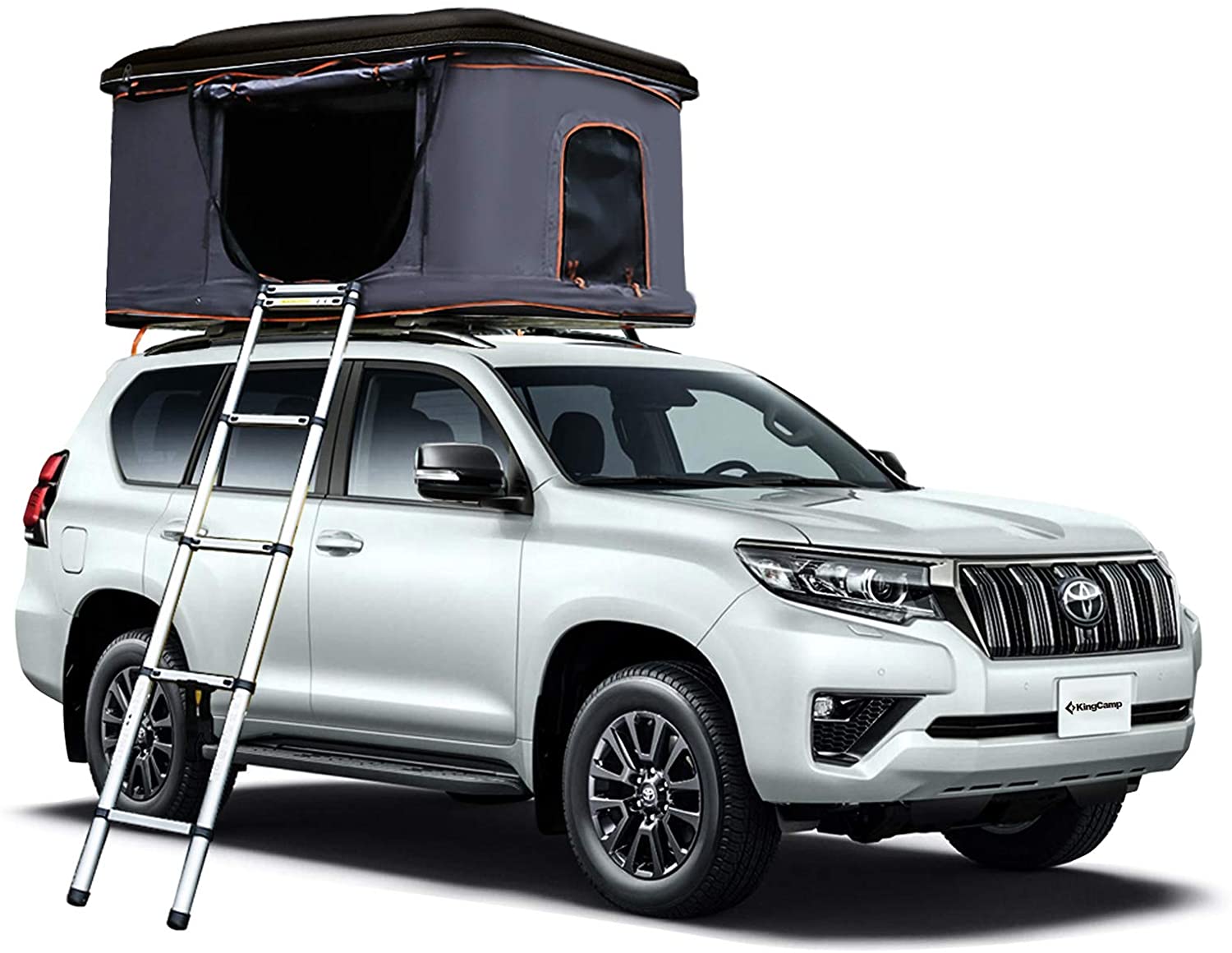 KingCamp SUV Pop-up roof Tent , Hard shell tent , 1-2 Person , Waterproof , with Stainless Steel Travel Cover Universal
The featured automatic hydraulic lever device makes it possible for you to open and close the hard-shell tent in no more than 3 seconds. Just release the clasps and push, it's done! Straps on the front and rear help you close the tent. Sized at 82.6× 50.7× 41.3 inches when unfolded, this rooftop tent is spacious enough for 2 people to sleep with a comfortable experience, and the height of 41.3'' allows you to sit up on your knees and get plenty of headroom. The tent can fold down to 11" / 28cm, and you have the option to add storage on top of it. Meanwhile, you can also keep sleeping bags, pillows, and blankets stored inside and close them up in this rooftop tent.
2. KINGCAMP TRUCK TENT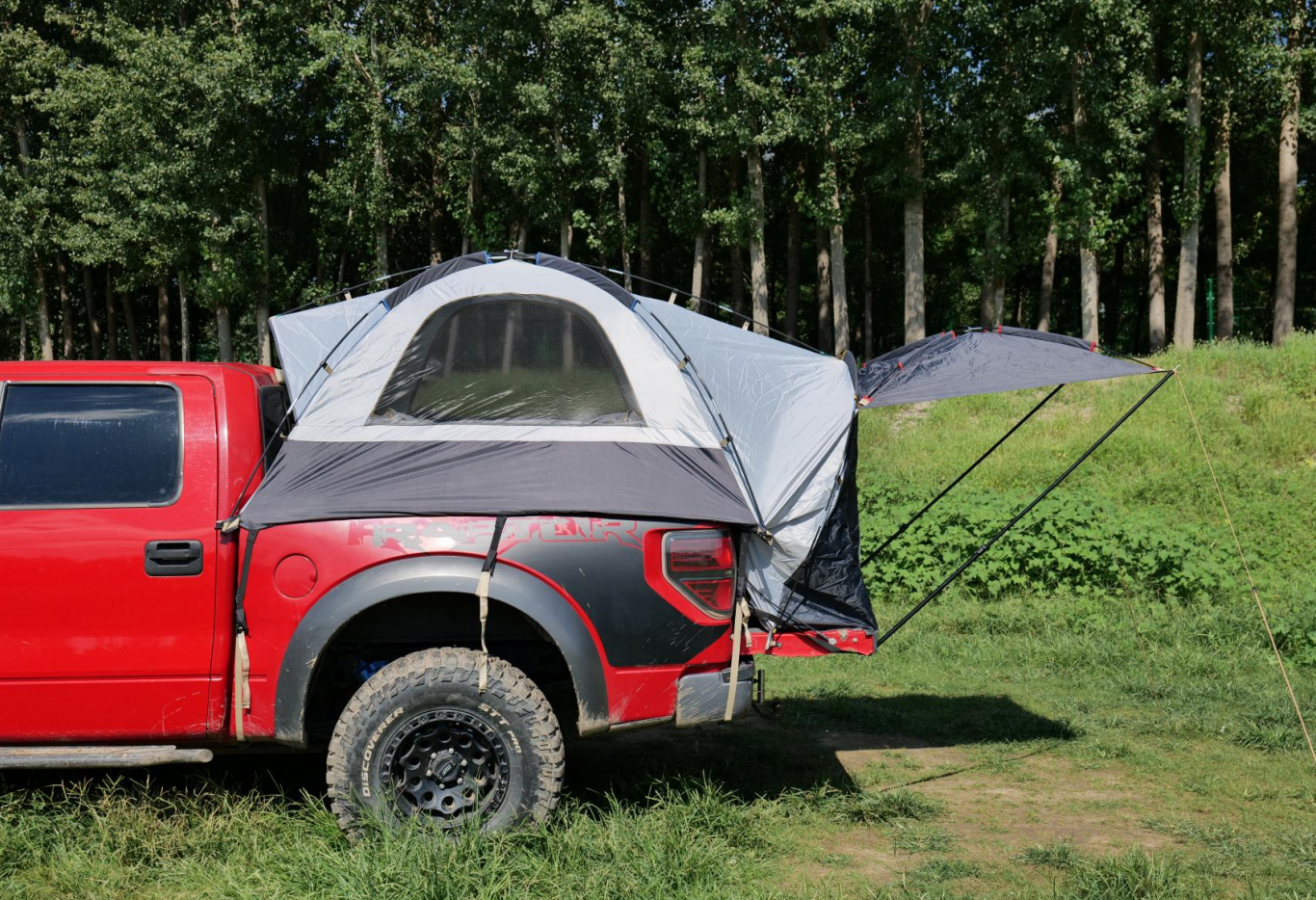 Made of 100% polyester 150D oxford PU3000MM F/R, this tent is rainproof and surprisingly durable. Full floor keeps you clean from your truck and dry from the elements, and the bottom of the tent has a watertight layer to avoid rainwater infiltration. Large interior area with near 65in of headroom is spacious for 2 adults plus 1 kid. Besides, the extended awning can shelter you from sun and rain when you sitting around the door.
3. KINGCAMP TUNNEL SUV TENT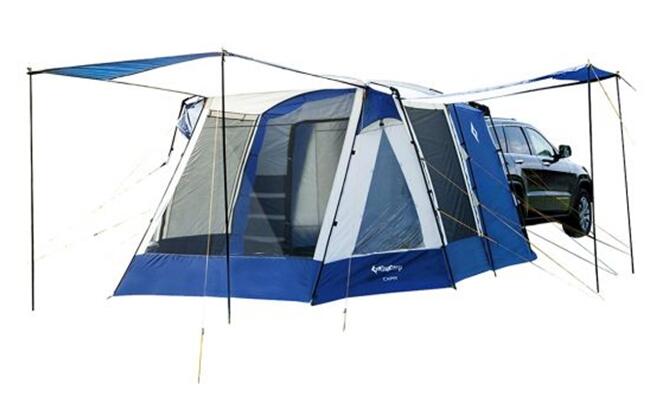 The unique design of this tent provides the most versatility and flexibility when camping. This roomy 202.7 × 118.1 inches tent sleeps 4-5 people can be used as stand alone tent. Roomy interior with 7' of headroom, equipped with a 3 rain fly awning, 3 large entrance doors, 3 large no-see-um mesh windows, 2 mesh skylights, lantern holder and gear loft hangs from ceiling. Includes removable screen room for bug free relaxation.
4. KINGCAMP CAR AWNING SHELTER
This car awning can be used as a gazebo when roped to the vehicle, SUV, MPV, truck, hatchback and sedan, but it can also be used as a ground shelter. Sized at 124 x 84.6 x 74.8 inches, the shelter can provide great shade to tables, chairs, and pets under it, protecting them against sun, and rain. Moreover, air vents in the peak allow upward breezes to flow through and large side mesh window ensures ample ventilation.
With the above 4 tents, you can easily turn your car into a budget-friendly accommodation, but it's far from a cozy convenient one unless you surround it all with the comforts of outdoor living--such as
5. THE KINGCAMP DOUBLE SHOWER TENT.
Nothing more comfortable than taking a warm shower after a all day camping. Pack the KingCamp Oversize Outdoor Shower Tent in your trunk for a more enjoyable camping experience. It can be used as a dressing room, a outdoor toilet or bathroom.
In the outdoor world, there are many types of activities, such as fishing, music festival, sports competitions, canoeing, hiking, van camping, auto camping, glamping, and other adventures. You can invite different people to join your outdoor activities. For example, you can go camping with family members, friends, lovers, your children or pets. Regular family camping may become lifelong memories. You can choose your own outdoor lifestyle from such a large amount of ideas and enjoy the camping fun.
If you are planning an outdoor trip, go with KingCamp. KingCamp is committed to providing a one-stop solution for family's outdoor life, inspiring and guiding people to live an unplugged life and learn to love outdoors. KingCamp provides you with thousands of high-quality camping gear.
Nature is calling, it's time to live on the road, unplug for love and to connect with your loved ones.